While photo frames might typically be thought of as a simple picture holder, silver photo frames offer so much more than this and a silver photo frame is the perfect addition to any home or living space. With a shining finish, a silver photo frame can add a special touch to any home or living space and guarantee that you can keep your memories preserved no matter how much time passes.
There are lots of options to choose from and many things to consider if you are keen to select the perfect silver photo frame, but whether you are buying for yourself or as a gift, this handy guide should tell you everything you need to know as you make your choice.
What Are The Different Types Of Sterling Silver Photo Frame?
Before you dive into browsing the fantastic range of silver photo frames available online at Bonds the Jewellers, it's important to understand that there are several different types of silver photo frames to choose from. While these may look similar at first glance, each has unique properties to suit different tastes and budgets.
Silver Plated Photo Frame
Silver plated photo frames are generally the most affordable type of silver photo frame. Rather than being made entirely from sterling silver, this type of frame is made by coating a base metal with a layer of silver. This creates a shining and sleek appearance, perfect for those who want to preserve special photographs in their own home or on an everyday budget.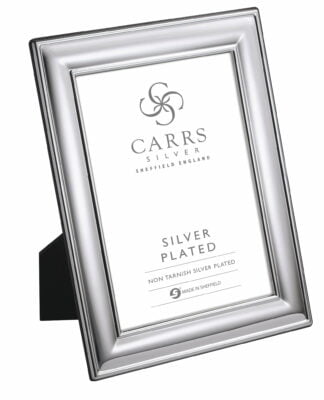 Sterling Silver Photo Frame
In contrast, sterling silver photo frames are a truly luxurious option. Typically constructed exclusively with high-quality 925 sterling silver plus a wooden back, a sterling silver frame oozes long-lasting shine alongside a timeless appeal. By offering such high levels of quality, this type of silver photo frame is a perfect christening gift for girls or boys or a memento for any other special occasion.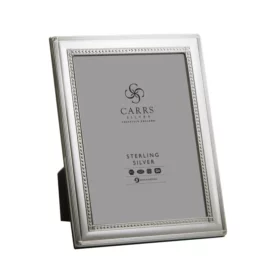 Bonds' Top Tips For Selecting Your Silver Photo Frame
With an understanding of the different types of photo frames and a knowledge of who and what you are purchasing your silver photo frame for, all you need to do is find the perfect frame for your needs. We suggest that you consider the following tips as you assess your options and make your choice.
Think About Size
Even the most beautiful and elegant sterling silver photo frames are useless if the photo doesn't fit. If you're buying a silver photo frame for yourself, we suggest having a think about which image you'd like it to hold before going any further. Measure your photo accurately with a ruler and don't forget to think about whether a suitably sized frame will actually fit in your chosen room or location. Alternatively, if you are buying a frame as a gift, opt for one of the most common photo sizes like a 6" x 4" or 7" x 5" frame to ensure the recipient can use it easily.
Consider Room Decor
Size will inevitably affect where you might be able to place your frame, but do consider the decor of your chosen room too. The clean and sleek appearance of silver photo frames means that they tend to go with pretty much any aesthetic or interior style, but you may want to pick a child-friendly style for a child's bedroom or go for some ornate edging for an antique feel.
Don't Forget Personal Taste
We're all pretty sure of our own tastes, so this tip is especially important if you are searching for the perfect silver photo frame as a gift. Try and put your own likes and dislikes to one side and select a frame that will really resonate with the recipient. If you are able to combine features that exude a personal touch then you're onto a winner, but the priority is trusting your instincts and finding a frame that will be treasured by your loved one and look good in their home.
Prioritise Durability
Photo frames exist to preserve memories and precious photographs for the years to come so opt for a photo frame that will withstand the test of time. Other than their beautiful appearance, one of the main advantages of silver photo frames is that silver is more long-lasting and resistant to tarnishing than a more basic photo frame. However, if you are keen to choose the most durable option then we'd recommend going for sterling silver over silver plated and setting aside to clean the metal correctly.
Despite there being a number of things to consider as you choose the perfect silver photo frame, the process should be a rewarding one that results in a sentimental and personal addition to any home. Whether you opt for a silver-plated frame for subtle style or pick a genuine sterling silver photo frame for truly timeless elegance, make sure that you prioritise the value of your memories above anything else. Should you have any questions about silver photo frames as you follow this guide, don't hesitate to contact the friendly team at Bonds the Jewellers who will be on hand to talk you through the complete range of options available.